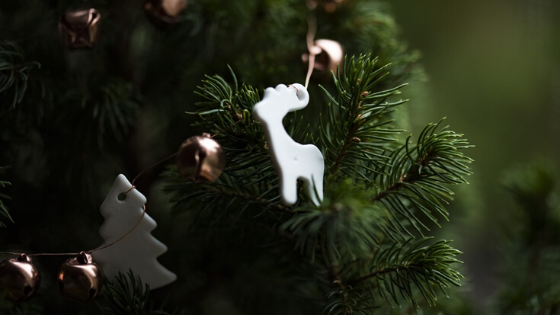 The holiday season is finally upon us, and Chicago residents are preparing for a few weeks of celebration, giving thanks, and lots of family time. One of the best ways to usher in the holidays is to give your apartment a mini makeover with festive decor. If you're crafty and looking for a great way to transform your apartment into a winter wonderland, we suggest checking out a few of our favorite DIY holiday craft projects.
4 DIY Holiday Decoration Ideas
1. Black Paper Tablecloth
Are you planning to entertain at your apartment for one of the big holiday celebrations this year? If so, say goodbye to that old fussy tablecloth and opt for black butcher paper instead. With this blank canvas, you can decorate your table however you'd like, using paint pens or liquid chalk to create custom place cards and more.
2. Crafty Candles
It's always nice to bring your favorite natural holiday scents indoors, but purchasing enough three-wick candles to make it through the winter can be costly. So, why not DIY your own pine-scented candles to create a welcoming atmosphere in your apartment instead? Check out this fun tutorial from Sugar and Charm for inspiration.
3. Fairy Light Lanterns
Welcome your holiday guests into an inviting winter wonderland with a few simple and beautiful lighted lanterns dotted throughout your apartment. All you need for this craft project are a few strings of battery-operated string lights and a handful of lanterns or interesting vases. Bunch up the lights inside the lantern, doing your best to hide the battery pack, and cluster them in your entryway, on a side table, or as your dinner table centerpiece.
4. Felt Garland
Jazz up your holiday tree or add some interest to your entryway with the help of some colorful felt garland. This fun craft from Tell, Love, and Party is super simple to make and can be modified to match with your existing holiday decor. Additionally, the beautiful felt garland makes for the perfect holiday gift from the heart!
Happy Holidays From North Harbor Tower
At North Harbor Tower, we want to make sure you have a happy holiday season. Give us a call today at 1.866.473.1997 to learn more about life at our luxury apartments in Chicago.