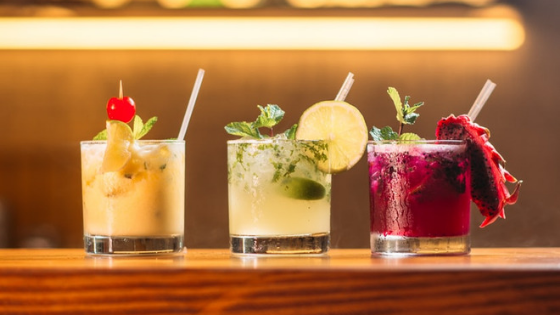 Although you could go the classic route and pair your popcorn with soda, a surefire way to take your movie nights to the next level is to create a batch of mocktails. Mixing them up is super easy and a fun way to get the party going. So, go for the gold in preparing for your next big gathering by getting what you need to make these three drinks.
Virgin Paloma
In this drink, the pairing of two delicious kinds of citrus creates an incredible flavor profile, unlike anything you have ever tasted. Get started by grabbing:
2 cups carbonated water
2 cups of grapefruit juice
2 cups lime juice
1 cup agave syrup
In a large pitcher, add the fruit juice and agave syrup and mix together. Then, pour in the carbonated water to complete this awesome beverage. If you are not going to enjoy this drink right away, delay adding the carbonated water until just before serving it. Otherwise, it could go flat. Pour over ice to elevate the tart flavors even more.
Lime Mint Cooler
When poured over ice, lime and mint can prove endlessly refreshing and amazingly delicious. To make this mocktail, gather up:
3 cups carbonated water
1 cup of coconut water
1 cup lime juice
1/3 cup sugar
1/4 cup mint leaves, chopped
Several sprigs of whole mint leaves
Combine all the ingredients, with the exception of the whole mint leaves, in a large pitcher and stir well. Allow the mixture to chill for several hours so the flavors meld together. As you pour the mocktail into glasses filled with ice, use a strainer to remove the mint leaves. Garnish with a couple of fresh whole mint leaves before serving.
Lemongrass Iced Tea
4 cups chamomile tea
2 cups lemon juice
1/2 cup lime juice
1/2 cup sugar
Whole lemongrass
Working ahead of time, combine the tea, fruit juice and sugar in a large pitcher. Once combined, add the whole lemongrass and allow the mocktail to sit in the fridge for several hours. Before serving, remove the lemongrass. Pour this drink over a cup of ice and add a new stalk of lemongrass as a garnish.
With your refreshing mocktails in hand, you can kick off your movie nights in style. After the fun is over, turn your attention to upgrading your Chicago apartments. With a call to our team at 866-474-1997, you can learn about all the awesome apartment homes available to you.