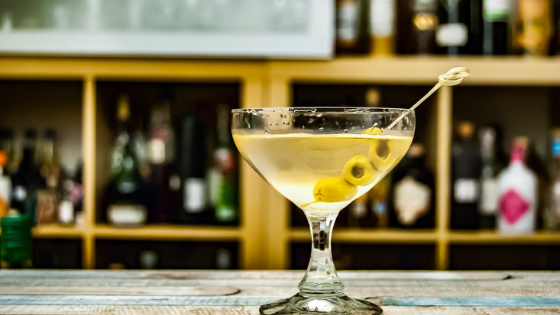 "Shaken, not stirred" — those words are forever linked to James Bond as the way he prefers his martinis to be made. But martinis aren't the only drinks that have had their moment in the spotlight because of a TV series or a movie. The following are three tasty creations that became just as famous as the actors and actresses who sipped on them.
James Bond — The Vesper Martini
The recipe for James Bond's famous martini was given in Ian Fleming's first novel about the spy.
Ingredients:
3 ounces Gordon's gin
1 ounce vodka
1/2 ounce Lillet Blanc
Shake all ingredients with ice. Strain and serve in a champagne glass (this was Bond's choice of glass for this drink, according to the book). Garnish with a slice of lemon. Be forewarned: This is a very strong drink.
"Sex and the City" — The Cosmopolitan
This was the drink of choice for the four women of the hit HBO series "Sex and the City."
Ingredients:
1 1/2 ounces vodka
1 ounce cranberry juice
1/2 ounce Cointreau
1/2 ounce lime juice
Fill a cocktail shaker with ice. Pour in all of the ingredients and shake until chilled and well mixed. Strain your cocktail into a martini glass and then garnish with an orange slice.
"The Blues Brothers" — Orange Whip
This drink earned a following after it was ordered by John Candy's parole officer character during a scene in the hit movie "The Blues Brothers."
Ingredients:
1 ounce vodka
1/2 ounce triple sec
4 ounce orange juice
1 ounce rum
2 ounces heavy cream
Add all of the ingredients except the cream to a shaker that contains crushed ice. Shake for approximately 15 to 20 seconds until well mixed. Pour the cocktail into a glass, then float the heavy cream on top of the drink. Garnish with an orange slice.
Have you been searching for a new home in the Windy City where you can indulge in delicious beverages such as these? Then please check out our apartments in Chicago. Our community boasts stunning views of Chicago and Lake Michigan, a 24-hour fitness center, an indoor pool, package delivery and a door attendant. Our apartments are also pet-friendly. Contact us today to learn more.